Post by Deleted on Apr 10, 2013 12:44:54 GMT
Following on from the viral 'Blackbushe photos from the past' thread lets do the same to lasham. Most of these come from the late 80's onwards so sadly no Comets etc. Until the early 2000's Lasham was a lovely open field with no barriers and genrally friendly security. Sadly the world situation and an accident between a lorry taking a cut through and a stationary 727 ended that.
Just a bit of history.. opened 1942 and occupied by several squadrons mainly using Typhoons, Mosquitos and Mitchells until the end of 1944. Then used for testing by General Aircraft ,RAF Lasham closed 1948 although site still owned by MoD with a RAE outstation.
Gliding started c 1950 and Dan-Air moved in with their maintenance base in 1954. In 1956 Airwork also moved in to a hangar across the road from the main airfield until 1960. This was later Staravia's scrap yard until the early 70's.In 1992 Dan-Air ceased operations and this became FLS and now ATC. Many a Comet, 707 and reciently 727 and 737 has met its fate here.
To kick us off here are a few of mine...
N960CC Boeing 707-1213B c/n 17634 seen here 4/9/88. Built in 1959 and served with American Airlines, broken up in Texas in 1996. Seen here sitting outside one of the Dan-Air hangars.
N346JW DC-8-63F of CLA Air Transpirt, seen here 11/10/98. Originally a VIASA machine it also flew for Iceair and Arrow air. At the time it was operating for MK Cargo and is still lingering on at Roswell.
G-BKYM Boeing 737-236 seen 10/8/1999. Was semi pained up as LV-OOO but this was not taken up, it became LV-ZSD and is now a ground trainer in Argentina. This was typical of the ex BA 737-200's disposed of in the late 90's.
N674MC Douglas DC-9-51 e Swissair and a very exotic visitor on 4/9/88. This was the support aircraft for McD's during Farnborough week. This was the year they showed the MD-80 with the UHB engine. Reciently scraped at Mojave
OO-DHW Boeing 727-223f a regular visitor when with DHL 95-04, still going as PK-YGR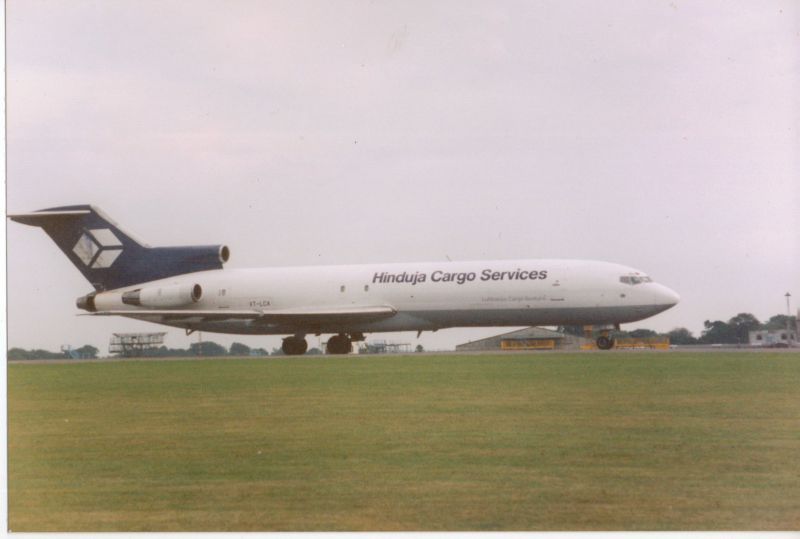 VT-LCA Boeing 727-243f seen arriving 6/9/98 with the short lived Hinduja Cargo. Originally with Alitalia and then Continental, still around in california
N962L Cessna F150. Proving its not just about the big boys this was one of a number imported by Three Counties Aeroclub through lasham in 1984 to become G-BLJP, now G-MABE and based at popham.
Thants the lot for now, feel free to add. Would love to see some of a older vintage and from Staravia.